CrownRoyal Springers - the beginning....
In 1977 I was working at a veterinary clinic and one of my co-workers showed Dobermans. I had never been to a dog show when she invited me to go the first time. I was hooked just watching. One of the rings that seemed to always attract attention was Springers. At the time I had a 2 year old Lab Mix and a 1 year old Irish Setter so getting a show dog was out of the question. Who would ever have more than 2 dogs at one time??

So I went for many years just to watch. I saw a lot of Springers compete in the breed but always remembered Tom Glassford and Midget. They were such a great pair. Little did I know then that one day I would have a B/W Springer bitch that I too could have so much fun showing.

Ten years went by and I lost my Lab Mix Toby. He was my first dog so I had a difficult time with his death. A client came in with a beautiful Springer so I just asked for the name of the breeder to have the information for when I was ready. I called the same day, she had puppies and I was just going to "look" because I didn't think I was ready. The Veterinarian I was working for told me that I would never get out of there without bringing home a puppy. He said there is nothing cuter than a litter of Springers. How right he was! So that started me in Springers. He was a B/W puppy dog I named Riley.
It all began back in 1988 when we acquired our first English Springer Spaniel, Riley.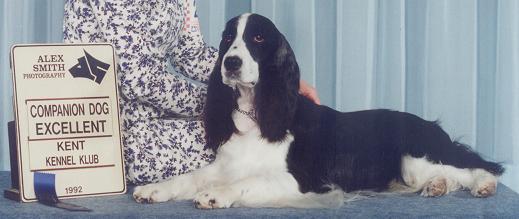 Riley went on to become:
U-CD Lynmar's The Life of Riley AKC-CKC-SKC CDX, WD, TDI, CGC. 
(Ch. Stepney's Viscount x Ch. Loujon Password)
 Breeders Carolyn Sorg and Karen Miller.

Riley wasn't big enough to be a show dog so he was neutered and we started in obedience. While competing in obedience at all breed shows I was back watching the breed ring. I really wanted a show dog so Carol and Karen introduced me to Janice Johnson of Wil-Orion Springers in Minnesota. I live in Indiana and it was a 10 plus hour drive to Janice's house so that started me on my "marathon" driving. 

From Janice, I purchased a L/W puppy dog named Spenser.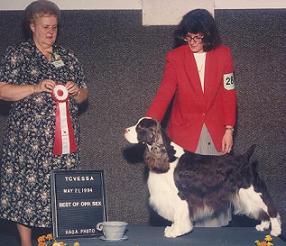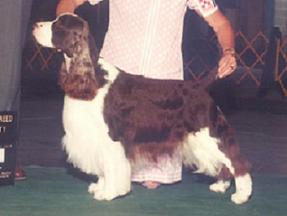 He would become Am/Can Ch. Wil-Orion's Spenser for Hire AKC/CKC/SKC CD TDI CGC
(Ch. Salilyn's Dynasty x Ch. Legenday's Promises Promises).

Spenser was the ultimate show dog so he taught me how to show dogs. Janice has always been an incredible groomer and handler so when I made my twice yearly trips to the MN specialties I got a lot of great tips on Springer presentation. I really needed it because back home every weekend I was competing against Tom and Andrea Glassford, Karen Miller, Kellie Fitzgerald, Marge Rollins and soon after Robin Novack. It was tough but I think it made me better in order to compete.

When Spenser was still only 7 months old, Janice was coming to Indiana to pick me up for the National Specialty in Allentown. She had been calling me a lot trying to talk me into a L/W puppy bitch that she wanted in a show home. She could just bring her along if I would take her. I kept telling her no I had "2" dogs. She was willing to just give her to me if I would show her. My husband told me that if I was serious about this dog showing thing I probably should take her. I think he will forever live to regret that.

Tetley did come to Indiana from Janice!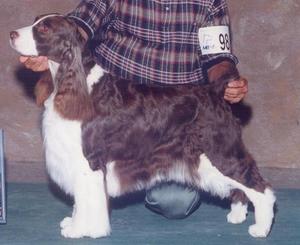 She would become Am/Can Ch. Wil-Orion's Tea for Two TDI CGC
(Ch. Ocoee Faux Paw x Ch. Wil-Orion's Freedom Choice WD)
...the start of the "Tea Dogs".

I finished both Spenser and Tetley myself on the same weekend with some great wins. Spenser got his first major winning a group. Tetley finished with 3 majors including a Michigan supported entry and 5 points in Louisville. What was I going to do now? Tetley wasn't quite 2 and I had no interest in breeding. I had met Dennis Fitzpatrick (Breakaway Springers) through Janice and he had a couple of puppies he wanted in show homes. He sent a B/W puppy dog to become Ch. Breakaway's Hugs and Kisses, Hudson and
 
a L/W puppy bitch, Xoe.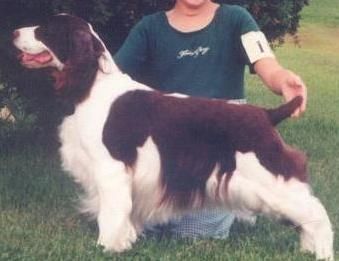 She became Ch. Breakaway's XoXo's CD, CGC

I spent the next couple of years finishing them.

During this time Janice kept telling me I needed to breed Tetley. I really didn't want to do it but finally I took her to Salilyn's kennels to be bred to Robert. That was really traumatic leaving her there. I had never left one of my dogs somewhere. I cried all the way home! If I was going to do this all I wanted was a L/W dog to show.
 
I got my wish with Lipton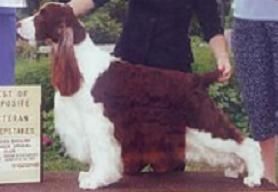 He was to become BISS Ch. CrownRoyal's Breakaway for Tea, CGC.
(Ch Salilyn"s Condor x Ch Wil-Orion's Tea For Two)

I also kept his sister Teaser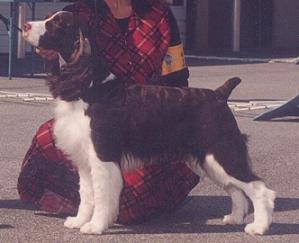 to become Ch. CrownRoyal's Tea at Wil-Orion 

Janice had seen another Salilyn dog she really liked and thought would be good for Tetley. So back we went to Salilyn and it was easier this time leaving her. We bred her to Ch. Salilyn's Nicholas.

From this breeding I got Mima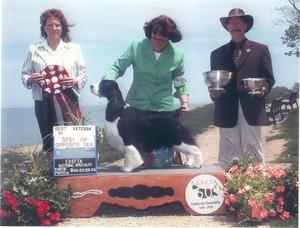 to become BIS/BISS Am/Ber Ch. CrownRoyal's Black Tea Leaves.

Janice took a puppy also, Roy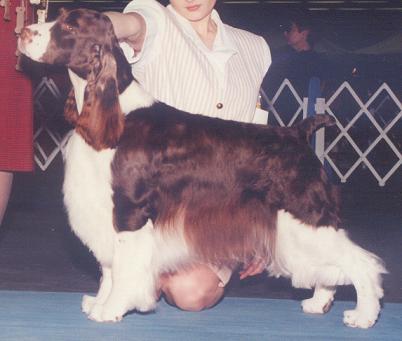 to become BISS Ch. Wil-Orion's CrownRoyal Tea.
He went to live with and be raised by her niece Sarah Kraft (Tagalong).

From there I really got hooked on the specialties. I thought sweepstakes both puppy and veterans were the greatest. Everyone made fun of me because I thought the coolest thing you could do at a specialty was win the sweepstakes and go reserve with your puppy. Why would you want the points? If you finish them too fast then what do you do? I went to every specialty that was fairly close to my home. That was until I met Laurie Green (Crossroad) when she moved back to Ohio in 1995. Lipton and Mima were sweeps age and Laurie also had 2 puppies. We were going to the Lake Erie club's specialty in Ohio. She called before entries closed and wanted to know if I wanted to go to an Eastern supported entry the day after. She had co-bred a litter of puppies she wanted to see and did I just want to leave OH and drive to MA to show the next day? She assured me it wouldn't take that long. I should have actually looked at a map! Needless to say we got there very late and of course had an 8 am ring time. But....Mima went best in sweeps and reserve! After that driving to the East coast was a drop in the bucket and Eastern was added to my list of Specialties.

Over the years I have had a lot of very special wins with these dogs and those that I have bred down through them. National and Specialty sweeps puppy and veteran, Specialty Bests, National and Specialty BOS, National and Specialty AOMS, Specialty points, Best in Shows, Parent Club Awards but my most cherished moments are those that involve accomplishments from the generations.
 
One of my favorite pictures is the 5 generations I showed all at the same National Specialty in St. Louis. Lipton was a Specialty winner, his son Tea-Bone was also, his sonTeater won at specialties, his son Caddy has won and now Caddy's son just went Best in Sweeps at the National support week specialty and a daughter Best of Op in the breed.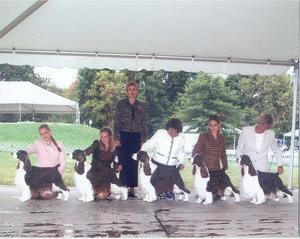 Five Generations of CrownRoyal Champions
(left to right: Tetley, Lipton, Tea-Bone, Teater, Caddy)

Mima is a Best in Show winner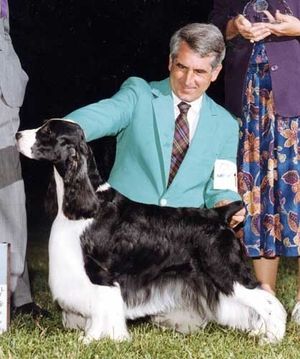 her son Caddy, is also.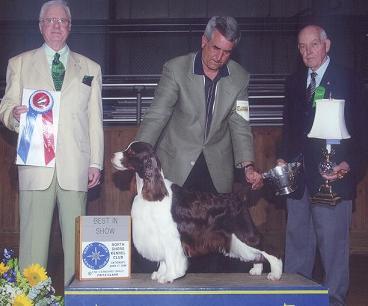 BIS/BISS Ch. CrownRoyal's Tea Caddy

 The other very special thing is the people you meet and form such great friendships with through these Springers we all love. People have been incredibly generous and helpful to me so that I could accomplish what I have.
 
Junior Showmanship has also had an affect on me. I have dogs with juniors right now because of a call I got in 1996 from someone inquiring about Xoe. She had heard about her and wondered if I would consider letting her go to be a juniors dog. My first thought was let her go? How could I give her away? Then I had to realize it wasn't fair to Xoe to just be another dog at my house when she could be a beloved pet to a 9 year old girl.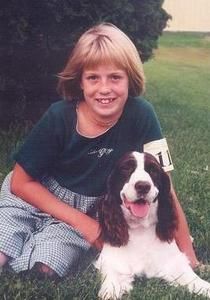 Brittani & Xoe - their first day together in Juniors
 
That started by friendship with Brittani Kettleson and her mom Jennifer. Brittani was a very successful junior and showed Lipton through most of her time in juniors. Together they qualified several times for Westminster and won Best Junior at the National in Perry, GA.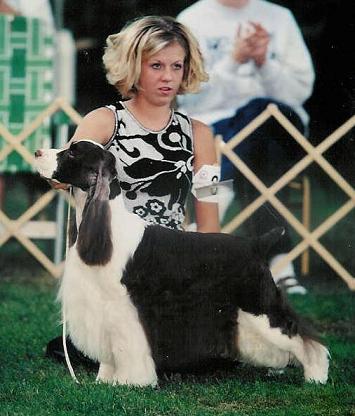 Lipton & Brittani

Brittani has grown into an accomplished handler in her own right.
She is an AKC Registered Handler's Apprentice and does a great job handling the "Tea Dogs".

Her most notable win being the '09 National where she piloted Caddy to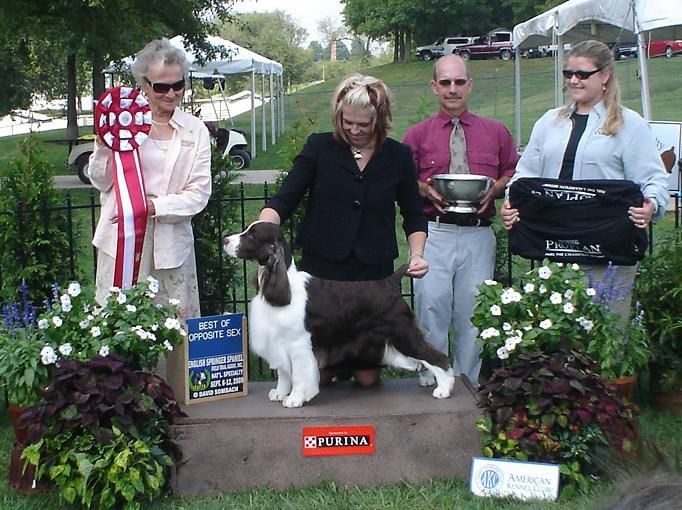 ESSFTA National Specialty Best of Opposite Sex
from the 7-9 year old Veteran Dog Class
BIS, BISS CH CrownRoyal's Tea Caddy



Jennifer, Caddy & Mary after Caddy's National Win

Jennifer has become a great friend and co-breeder with me. She's the one that does all the hard work whelping the litters.

I enjoy new friendships with Vickie Arnold and Cindy Barnett who are the mothers of current juniors Katelynn and Katie. Laurie Green and Erline Jesseman (Jockeyhill) co-own Caddy with me and helped to finance his career. Ben Custer and Mike Bockhorn (Polesitter) took me up on "do you want to fly out to the West coast for a Specialty?" a few years ago and since then we have had a ball going to specialties. Audrey Eng who gave a great home to Noggin Ch. CrownRoyal's Christmas Tea. Tom and Andrea Glassford (Jester) have always been very helpful and always took the time to answer any question I had. Kellie Fitzgerald, Robin Novack, Karen Miller, Marge Rollins, Sarah Kraft and many others have always been generous with grooming tips.

Many professional handlers have also been great .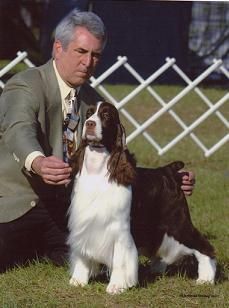 especially Brian Still who has taken the "Tea Dogs" to many great wins!

The list could go on.....
Thanks to all.

Mary Osbun